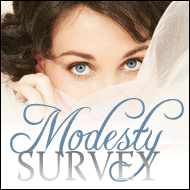 Just read: article in the Philadelphia Inquirer
, about the new modesty movement (to coin a phrase)
In this article, a review of a recent experiment by one church group to expose the local young people to an alternative to the modern styles of un-dress or "gang attire", including the following information:
In 2004, Nordstrom department store executives promised to provide more modest clothing for teens after receiving a letter from Ella Gunderson, then 11. The letter said: "Your [clerks suggest] that there is only one look. If that is true, then girls are [supposed] to walk around half naked. I think that you should change that."

In 2005, commentator Wendy Shalit, author of A Return to Modesty, started a Web site called modestyzone.net. Its manifesto: "Whether you're a virgin waiting until marriage, or just against casual sex more generally, you can find a safe harbor here to share your ideals, interests, and goals for the future."

Other Web sites now offer modest clothing, including modestapparelusa.com, modestbydesign.com, dressmodestly.com and funkyfrum.com.

In State College, Pa., there is a ministry called Pure Freedom, which focuses on sexual abstinence. The ministry, founded by writer Dannah Gresh and her husband, Bob, offers weekend workshops for adolescent boys and girls, and includes a core component on self-esteem, modesty and "refusal skills" - how to stand firm against early sexual come-ons.
It's out there: Modesty. I think it time for the true ladies and gentlemen to stand up for what already believe in, but were afraid to say anything for fear of sounding like "prudes". It's not as if we obsess over it, as some claim - that would be vain, the opposite of modesty, and of our way.