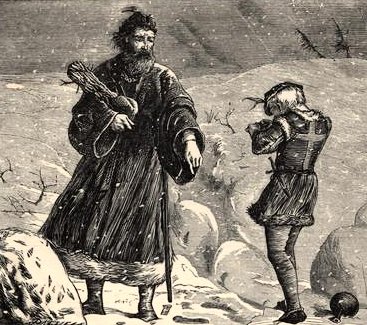 Don't forget Good King Wenceslas! Yes, it's really a Boxing Day song, so I'm a little late, but hey, let's keep the season alive!
"The words to the carol "Good King Wenceslas" were written by John Mason Neale, and published in 1853. The music originates in Finland 300 years earlier. This Christmas carol is unusual as there is no reference in the lyrics to the nativity.
Good King Wenceslas was the king of Bohemia in the 10th century. King Wenceslas was a Catholic and was martyred following his assassination by his brother Boleslaw and his supporters. His Saint's Day is September 28th, and he is the Patron Saint of the Czech Republic.
St. Stephen's feast day was celebrated on 26th December, now called "Boxing Day", which is why this song is sung as a Christmas carol." (courtesy carols.org.uk)
Good King Wenceslas looked out
On the feast of Stephen
When the snow lay round about
Deep and crisp and even
Brightly shone the moon that night
Though the frost was cruel
When a poor man came in sight
Gath'ring winter fuel
"Hither, page, and stand by me
If thou know'st it, telling
Yonder peasant, who is he?
Where and what his dwelling?"
"Sire, he lives a good league hence
Underneath the mountain
Right against the forest fence
By Saint Agnes' fountain."
"Bring me flesh and bring me wine
Bring me pine logs hither
Thou and I will see him dine
When we bear him thither."
Page and monarch forth they went
Forth they went together
Through the rude wind's wild lament
And the bitter weather
"Sire, the night is darker now
And the wind blows stronger
Fails my heart, I know not how,
I can go no longer."
"Mark my footsteps, my good page
Tread thou in them boldly
Thou shalt find the winter's rage
Freeze thy blood less coldly."
In his master's steps he trod
Where the snow lay dinted
Heat was in the very sod
Which the Saint had printed
Therefore, Christian men, be sure
Wealth or rank possessing
Ye who now will bless the poor
Shall yourselves find blessing.
How are you sharing with those less fortunate today, this season, and all year long? Are you involving your children and showing them the way?

---
Proverbs 14:31: He who oppresses the poor shows contempt for their Maker, but whoever is kind to the needy honors God.

Now a certain ruler asked Him, saying, "Good Teacher, what shall I do to inherit eternal life?"
So Jesus said to him, "Why do you call Me good? No one is good but One, that is, God. You know the commandments: 'Do not commit adultery,' 'Do not murder,' 'Do not steal,' 'Do not bear false witness,' 'Honor your father and your mother.'"
And he said, "All these things I have kept from my youth."
So when Jesus heard these things, He said to him, "You still lack one thing. Sell all that you have and distribute to the poor, and you will have treasure in heaven; and come, follow Me."